HRW: Kurdish Government Not Better Than Saddam Hussein's

By WLADIMIR VAN WILGENBURG
28/05/2011 04:02:00

Source: http://www.rudaw.net/english/kurds/3711.html

Human Rights Watch (HRW) severely criticized the human rights situation in Kurdistan on Tuesday, and claimed that the Kurdistan Regional Government (KRG ) is not much better than the former government of Saddam Hussein.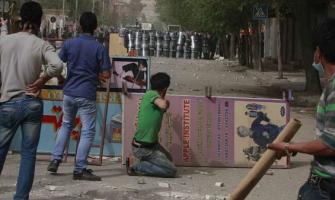 A scene from Sulaimani's protests in February. Photo by Kurdish View Blog.
"The Kurdistan Regional Government promised a new era of freedom for Iraqi Kurds, but it seems no more respectful of Kurdish rights to free speech than the government that preceded it," said Sarah Leah Whitson, Middle East director at Human Rights Watch. She refused to comment further on her comparison between the former and current governments.
KRG officials and security forces are carrying out a growing assault on the freedom of journalists to work in Iraqi Kurdistan, Human Rights Watch said Tuesday. They added that regional officials should stop repressing journalists through libel suits, beatings, detentions, and death threats.
This notion—that Kurdish security forces attack journalists—is shared by the NGO Committee to Protect Journalists (CPJ). Frank Smyth, the Washington, D.C. representative of CPJ, who visited Kurdistan in April, wrote on his blog for the CPJ that "security forces have also been attacking journalists who have been covering the protests."
Kamal Chomani, a correspondent and managing editor at
Livin
magazine agrees that the current government is not much better than the Baath regime of
Saddam Hussein. He hopes that the last report helps to pressure the government into becoming more democratic.
"During the time of Saddam Hussein some people would beat you, torture you, or even kill you if you wrote about them. You can see the same thing today in Sulaymaniyah. You saw how security people beat Rebin Herdi and other journalists who were arrested or tortured," said Chomani.
But Hiwa Osman, Country Director for the Institute for War & Peace Reporting (IWPR), which trains journalists in Kurdistan and Iraq, says that the current government isn't like the former autocratic regime of Saddam Hussein. "I wouldn't necessarily say that. In the former government, if you just spoke about the president, you would be executed. We [
Metro Magazine
] published caricatures of [Kurdish president] Barzani and nobody came after us."
Still, Osman adds that physical attacks against journalists are increasing. "That's a key problem that needs to be faced," he said. "Although we are claiming to be a democracy, although we are trying to do all the right things, some of the symptoms of the past regime linger on." He warns that these aggressions are "becoming like a culture amongst some of the security officers". "Many journalist friends of mine tell me you cannot carry a camera and walk normally around Suleymaniyah or, to some extent, Erbil."
The idea that the Kurdish government is backtracking on democracy is shared by other foreign journalists.
Christian Science Monitor
editor Dan Murphy wrote last Monday that when Saddam was still in power, "Free Kurdistan" was a popular destination for journalists, but now, he says, "Kurdistan's leaders behave much like the autocrats of the Arab world" in their repression of local protests. On Twitter he wrote that the Kurdish leaders weren't acting like Saddam, "just like any group of Middle Eastern autocrats."
HRW directs further criticism at the U.S. for being largely silent about the recent serious human rights violations against journalists and protesters. "Eight years after the United States removed Saddam Hussein in the name of protecting the rights of Kurds, it is standing by silently as the government it helped to install in Kurdistan abuses and represses the population," Whitson said.
However, Dale Prince, a spokesman for the U.S. Embassy's Regional Reconstruction Team in the Kurdish capital Erbil, says that he spoke to several local media channels about press freedom in Kurdistan this month. "We support the universal rights of people to demonstrate peacefully, to freely assemble, to express themselves without fear of intimidation or death, and seek redress from their government. This has been our consistent message in Iraq and throughout the region," he said.
Since anti-government protests erupted on February 17, the local press freedom group, Metro Center to Defend Journalists, has documented more than 200 cases of attacks against and harassment of Kurdish journalists, and Reporters Without Borders has tallied forty-four physical attacks against media workers and outlets and twenty-three arrests. The majority of these violations were committed by the security forces, says Metro. The U.S. government asked the KRG to investigate these incidents.

One of these violations is the court case against
Livin,
says Human Rights Watch. The independent magazine is being sued by the ruling Kurdish parties for an article that claimed the KDP and PUK had planned to assassinate opposition leaders. According to court documents obtained by Human Rights Watch, the KDP is seeking total damages of one billion dinars (US$864,000) and an order to shut down the magazine by revoking its license.
But Hiwa Osman says that in any modern democracy, the editor-in-chief of
Livin
magazine would be sued for publishing a story claiming that the ruling parties would try to assassinate opposition leaders, without proof to back up the claim.
"It's not a healthy thing to have. But you cannot accuse officials all the time of such things. We shouldn't give the media a free pass to accuse officials of criminal acts without any concrete evidence. This is understood everywhere else." said Osman.
Judit Neurink, director of The Independent Media Centre in Kurdistan (IMCK), a training facility for journalists in Kurdistan, agrees with this and criticizes Human Rights Watch for using the case against
Livin
as an example of the lack of press freedom in Kurdistan.
"This [article] isn't in any way journalism; it was based on the testimony of one anonymous source that has not been verified. This is against all journalistic ethics. For me, personally, this article shouldn't have been published. If this was published in the Netherlands or the West, they [the government] would also go to the court and there would be a big scandal," she said.
This doesn't mean that Neurink thinks there are no threats against the media. "It's a fact that the media in Kurdistan is in danger, but then you [Human Rights Watch] shouldn't use this example. It sends a wrong message to journalists [in Kurdistan] that you can publish these important stories using anonymous sources."
Government officials of the Kurdish Foreign Ministry and Presidency Office and the spokespeople of the KRG refused to give a statement to
Rudaw
, though Kawa Mahmud, a KRG spokesperson, told
Rudaw
that the KRG would study the HRW report and might release a statement this weekend.
Nawzad Hadi, the governor of Erbil, told
Rudaw
that he hadn't heard about the report, but said that the media is free to operate in Kurdistan. "I don't believe we have a problem with the media here. It's very open. Al Jazeera is not allowed in Iraq, but they are in Erbil and Suleymaniyah. There are many newspapers and media outlets. The number of newspapers in Kurdistan is unusual, and increasing daily."